WHO'S WHO IN AMERICAN LAW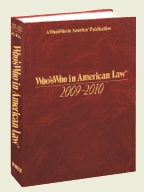 For over 100 years, Who's Who in America has provided accurate, concise biographies of notable Americans. That was the mission of founder, Albert Nelson Marquis, whose First Edition in 1899 featured 8,602 distinguished people.


Today, the Marquis Who's Who family of directories has grown to include the biographies of millions of leaders and achievers from around the world, and from every significant field of endeavor.


Corporate executives, journalists, personnel recruiters, librarians, researchers, students, and many others consult our information databases for in-depth information they can use with confidence.